City Wires and Networks: How Christians Navigate Them.
Join us by
Zoom
at
4-5.30pm
on
Wednesday: 28 September 2022
for a rich conversation between:
 

Lord David Blunkett, former MP for Sheffield Brightside and Hillsborough; 
Councilmember Kristerfer Burnett of Baltimore, Maryland (USA); 
and Rev Zaidie Orr, Team Ministry member for the United Reformed Churches in Sheffield.
 Our conversation will be moderated by the Rev. Dr Rob Hoch, UTU's Director of Theological Exploration. 
 Our topics will include questions arising from the legacies of slavery in the United States and United Kingdom. We will ask our guests to think with us about the challenges we face and "what works" — we intend to go beyond "diagnosis" to think about approaches that foster the kind of society where all peoples have an opportunity to flourish in work and life. 
 Please use the following Zoom link to join the third City Wire's forum: 
  Meeting ID:83289648804 
Lord David Blunkett
David Blunkett was awarded a peerage in the dissolution Honours List in 2015, taking the title of Lord Blunkett, of Brightside and Hillsborough in the City of Sheffield.  David was Member of Parliament for Sheffield Brightside and Hillsborough 1987-2015, and a member of Tony Blair's Cabinet for eight years from 1997.  He served as Education and Employment Secretary, Home Secretary and Secretary of State for Work and Pensions.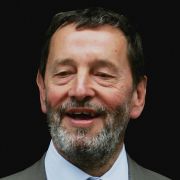 He is currently a Professor of Politics in Practice at the University of Sheffield, Chair of the Board of the University of Law, Chair of the Heathrow Local Recovery Forum and involved in a range of voluntary and charitable organisations locally and nationally.   
 He is an avid supporter of Sheffield Wednesday Football Club. Married, with four sons and three stepdaughters, he enjoys the countryside, reading and good food. 
Councilmember Kristerfer Burnett, Baltimore MD
Kristerfer Burnett, a lifelong Baltimorean, lives in Southwest Baltimore where he and his wife, Vanessa, are third-generation homeowners. He represents the 8th City Council District and represents over 40,000 amazing people across 27 of Baltimore's most diverse neighborhoods. 
Kristerfer was elected to serve on the Baltimore City Council in 2016, and in his first term in office he was appointed to serve as the Chair of both City Council's Health Committee and the Legislative Investigations Committee, as well as the Vice-Chair of the Equity & Structure, Public Safety and Executive Appointments Committees. Additionally, he served as a member of the Housing and Urban Affairs Committee and Education and Youth Committee.  
Kristerfer is the Co-Founder and Co-Chair of the Baltimore City Human Trafficking Collaborative.  Additionally, he serves as a member on the National Board of Directors of Local Progress and as a member of Baltimore City Community Schools Taskforce, Baltimore City Rec and Parks "Rec2025" Advisory Committee, and Baltimore City HIV Planning Group and Commission. Kristerfer also sits on the non-profit Board of Directors for the Baltimore City Community Mediation Center, and Turnaround Inc.  
 He was educated through both the Baltimore City and County public school systems. He is a graduate of the University of Maryland, College Park where he earned a Bachelor's Degree in African American Studies with a concentration in Public Policy. He then earned a Master's Degree in Public Policy at the University of Maryland, Baltimore County.  
He truly believes that the most fulfilling aspects of his life have been giving back to those who need it, advocating for structural reforms to improve the lives of Baltimoreans, and empowering the residents of Baltimore to be the changemakers we need to move our city forward! 
Rev. Zaidie Orr, Pastor of Central United Reformed Church, Sheffield

Photo not available
 Rev Zaidie Orr has been a minister in the United Reformed Church in Sheffield for the past 7 years. The churches in Sheffield are served by Team Ministry which consists of three ministers. 
 Before answering the call to ministry, Zaidie worked in Health and Social Care. As a qualified nurse for people with learning disability, she worked with various agencies to commission and provide services in the community. 
 In her free time, she enjoys photography and walking in the beautiful areas around the city.